Chargein, Tide and Smart Charging Platform Agreement
페이지 정보
작성자
최고관리자
댓글
0건
조회
2,042회
작성일

21-04-15 14:40
본문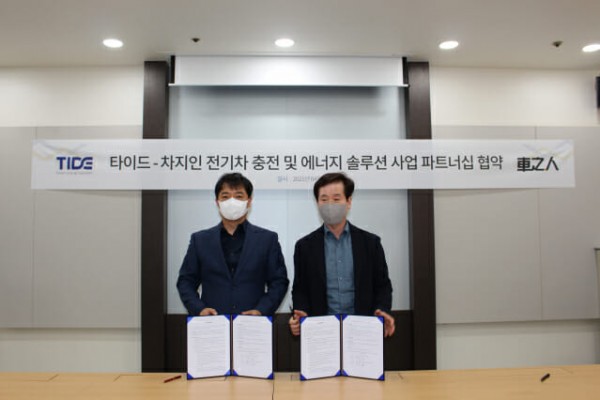 12 days to install Tide and smart charging platform operation management, a company specializing in intelligent power metering infrastructure (AMI) solutions, occupying the nation's only electric vehicle charging and customer management platform.
Charge-in participates in the Jeju electric vehicle charging service regulation free special zone business as a special zone company, and develops a platform that can increase the utility of idle charging infrastructure and generate profits for non-open type (owned by private and non-charging business operators) charging service providers. have.
Tide is an intelligent power metering infrastructure (AMI) solution company that remotely checks electricity meters. It measures and manages power in real time by linking self-developed PLC (power line communication) power line communication and LTE modem technology with meter reading communication server. To secure a solution.
With the rapid increase in electric vehicles, it is essential to install electric vehicles in apartments.
When the Ministry of Environment was installed, it allocates 24 billion won in subsidies in 2021 to support 2 million won for one installation, and about 500,000 won for the expansion of the facility has the necessary power as a facility charge for KEPCO.
KEPCO must secure power generation facilities and transmission facilities so that it can supply 7kWh of contracted electricity at any time, and tens of thousands of units must be secured accordingly.
Even if KEPCO expands its facilities, in the case of apartments, the power facilities of the building are already fixed when building the building, so it is necessary to perform construction to increase large-scale buildings to expand.
In other words, even if KEPCO's power supply is increased, it means that the building's power facilities will not be expanded, so there was no way to increase the number of comments, so it was impossible to install more than 5 units on a 100-family apartment basis.
Therefore, instead of expanding the power of the building, Charge-In secures the total power of the building in real time through Tide's Intelligent Power Metering Infrastructure (AMI) solution technology, and is a smart EV charging that adjusts the number of operating units and charging power in real time according to the large amount of power. Developed the platform. It is possible to flexibly apply the expansion of the charging infrastructure that is insufficient for apartments and various existing commercial buildings, thereby enabling the expansion of stable and efficient power use in the limited power infrastructure.
Source:
https://zdnet.co.kr/view/?no=20210412092205